Our Mother's Day Gift Guide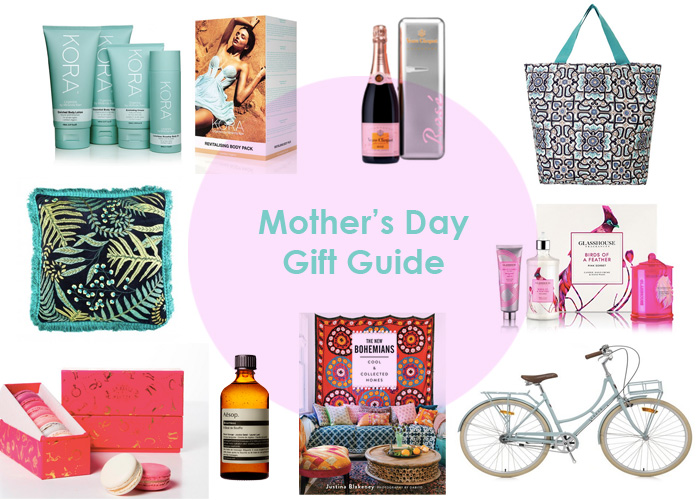 We love Mums! And to celebrate her, here are a few of our favourite things to help inspire your giving side this Mother's Day.
Kora Organics Gift Packs: Miranda Kerr's range of pure organic skin and body lotions and oils feel sensational on the skin. Purchase a gift pack before Mother's Day and receive a free hand lotion worth $39. 
Beach Cruiser Bicycle: You can purchase a range of pretty gelati coloured bikes from The Bike Exchange in Soutbank. This is a great idea if you want to do some more exercise with your Mum.
Veuve Cliquot Rose Champagne: Toast your Mum over a glass of Rose Veuve and a macaroon. This special edition bottle is stored in a gorgeous mini Kelvinator-style refrigerator that you Mum will love if she's a Veuve girl! Available Dan Murphys for $109.99 per pck.
La Belle Miette Macaroons: Walking into a La Belle shop is like drifting into a little cake shop in Paris. Take your Mum to one of the stores and spoil her with a box of these little sugars. Visit a store in Richmond, Collins Street, Hardware Lane, and Chadstone.
The New Bohemians: An inspiring coffee table book for the free spirited Mum who loves mixing colour and textures. Author Justina Blakeney is an LA-based designer who shows us how to put a whimsical touch on every room in the house and office. Available at The Book Depository for $35.
Gorman Cushions: Help your Mum breath some fresh life into her living room with some of the colourful eclectic cushions in Gorman's home range. They sell lots of other cute things for the home like table settings, bathroom and kitchen accessories, and soy candles.
Aesop Breathless Massage Oil: If your Mum loves the sensory experience of being touched, give her an all-body massage with this botanical oil by Aesop. Her house will be filled with notes of citrus, macadamia, and jojoba. A 100mL bottle is $35.
Tigerlily Kingdom Tote: This Moroccan inspired tote is appropriate size to use as a market, gym, library, or laptop bag. Available online at the Tigerlily stores at Doncaster, Chadstone, or Melbourne Central for $39.95.
Birds of a Feather Gift Pack: This special McGrath Foundation set comes with over $90 worth of value including a Feather Pink Sorbet Candle, Pink Sorbet Hand Crème, and Pink Sorbet Handwash. And that candle is the most entrancing shade of pink, isn't it? And 5c of all proceeds go towards funding breast cancer research. Purchase online for $79.95.
Happy Mother's Day mummas!
Namaste x
Images sources:
Kora Organics Gift Packs http://www.koraorganics.com
Beach Cruiser Bicycle http://www.bikeexchange.com.au/
La Belle Miette Macaroons http://labellemiette.com.au/
The New Bohemians http://www.bookdepository.com/
Gorman Cushions http://www.gormanshop.com.au/homeware/all.html
Tigerlily Kingdom Tote https://tigerlilyswimwear.com.au/c/bags
Birds of a Feather Gift Pack http://www.glasshousefragrances.com/
Veuve Cliquot Rose Champagne https://www.danmurphys.com.au
Aesop Breathless Massage Oil http://www.aesop.com/