Keep It Simple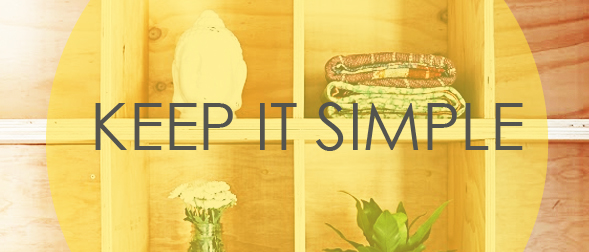 It's natural for us to sometimes feel run down or completely burnt out, and this is particularly common in the lead up to Christmas. Not only are we putting additional energy into tying up loose ends at work or in the home, but we're also managing a fresh new to-do list for the festive season. And that is before we even consider the extra outings in our social calendars!
When I get overwhelmed, it's easy for me to start feeling like I 'should' be doing more than I need to. Like many of us in the Light Space community, this leads to exhaustion and sometimes some feelings of guilt. It's really easy to get into the habit of overexerting ourselves and feeling anxious if we slow down for even one minute. It often takes a friend or a loved one telling us that we look 'tired' for us to realise that we really are doing more than what is necessary.
Quick question: are you letting your to-do list run your mind? An effective way to stop your list from owning you is to scan through it with a pair of discerning eyes and selecting the items that are imperative in keeping your wheels turning this week. If it needs to be done this week, you can keep it on your list.
If it can wait until next week or even next month, you can remove it and put it on a completely separate list titled, 'It Can Wait List' or 'Radar List'. Hide this list in the deep dark corners of your underwear drawer or underneath your spice rack. Resist the temptation to reach for it every time you feel anxious.
By separating the urgent items from the not-so-urgent items, you are retraining your mind from reverting to anxious urges to get it all done now, to a one step at a time approach. Since learning to prioritise in this way, I give my mind the space to give my full attention to this week's to-do items.
Or perhaps you are great at managing your list but you find it really tricky saying 'no' when people ask for your help or demand too much of your time. Learning how to say 'no' in a kind and reasonable way could go a long way in improving your mental and physical wellbeing this Christmas. There will be times where you have to decline an invitation. If you can say no in a way that honours you and the other person, you both walk away feeling positive about the situation.
Try to consider how your body is also affected during these periods of increased stress. When I feel light and stress-free, I envisage a beautiful golden light surrounding the crown of my head. But when I feel stressed and overwhelmed, that same aura is more like smoky grey cloud that hangs heavily over my head.
If you are tied to your desk or your home in the lead up to Christmas, treat your body once a day to 5 rounds of sun salutations to help you find more space for your mind and (this week's) to-do list. Remember, keep it simple.