Our Christmas Gift Guide
Christmas is just around the corner, so we've put together a gift guide of some of our favourite things to help inspire you!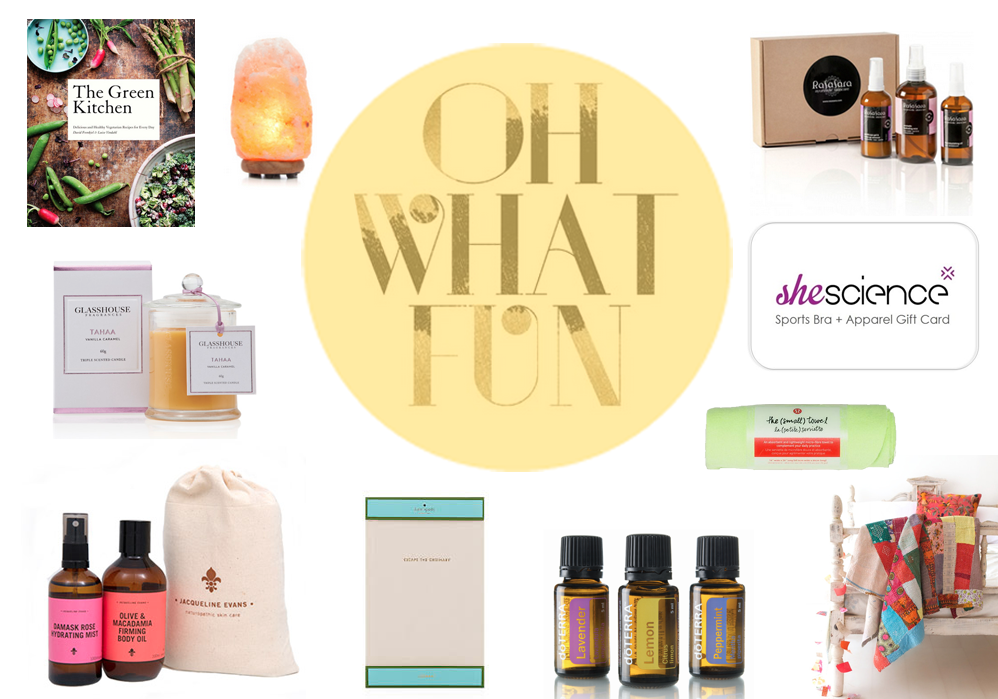 Clockwise from bottom right:
Sage & Clare Vintage Kantha Blanket – These beautiful blankets are what we have in the studio to make your savasana extra cosy! Made of layers of vintage saris, they have been lovingly hand stitched by artisans in India meaning that no two are the same. Perfect for the end of the bed, as a throw over an armchair or sofa, or as a prop for an at-home yoga practice. For $189 it is a special gift for your mum, daughter or loved one.

dōTERRA Spa Essential Oils – Choose from a gorgeous range of essential oils by dōTERRA. They do single oils and blends as well as some fantastic aromatherapy accessories. Our favourites are lemongrass, we love the Aromatouch Massage Blend and the Breathe oil blend is amazing for clearing a cold or stuffy nose. Prices vary.

Kate Spade Journal – A beautifully thoughtful gift that will look lovely on any bedside table. This Kate Spade Journal would be the perfect gratitude journal, a place to jot down daily goals and thoughts or a daily planner for a loved one that likes staying organised or expressing their thoughts with style. $24 each.

Jacqueline Evans Gift Pack – If you're looking for a thoughtful gift for a busy career woman, new mum or a loved one who is just tired and burnt out, a gift pack from Jacqueline Evans is sure to delight. Their range of body creams and bath salts are the perfect gift for anyone in your life who deserves some pampering. Yes please!

A Glasshouse Candle – A beautifully packaged candle from Glasshouse is a perfect stand-alone gift or stocking filler. They come in so many scents but some of our favourites are Montego Bay and Amalfi Coast. $39.95 each.

The Green Kitchen – This cookbook will keep your vegetarian and vegan family and friends happy, as well as your meat eating loved ones who may be hoping to cut back on their meat intake, or experiment with new styles of cooking! For $42.40, the perfect accessory for any kitchen. And it looks beautiful too!

Himalayan Salt Lamp – The delicious glow from one of these with bring a sense of tranquility to the home of your loved one. They are best placed near televisions and computers or anywhere that natural air quality needs restoring or preserving. Between $20-100 depending on size.

Rasasara Oncology Pack – We love Rasasara skincare! And their oncology pack is particularly special. The Rasa-Derm Advanced Daily Treatment Oncology Pack is suitable for use both during and post radiotherapy treatment. Containing 100ml pitta face nourishing oil, 100ml gentle eye gel, 250ml pitta aromatic hydrating mist, 125g soft pink clay, a soft muslin cloth and a tea ball for $175, the pack offers cooling and calming effects that will help treat scarring and inflammation.

She Science Gift Voucher – The perfect gift for any lady in your life that would appreciate a perfectly fitted sports bra. She Science measure a woman's breast size and bounce during their in-store testing, and then recommend the ideal bra for them. A free breast assessment is included in the voucher.

Lululemon Yoga Towel – If somebody asks what you would like this Christmas, why not suggest a yoga towel by Lululemon Athletica?  They cost $49 each and in a set of vibrant colours from lime green to bright pink. They are designed to be used as a top layer on The (Big) Mat or The (Pure) Mat. So handy for hot summer days!
Merry Christmas and enjoy the season of giving xo